Dividing your Presentation into PowerPoint Sections
Ever since PowerPoint 2010 version you have been able to use a presentation section to divide up your PowerPoint presentation and make it easier to work with.
Why would you want to do this?
Well, you might have a presentation that you intend to show to different audiences. For example, if you had a company presentation that included financial forecasts you might not want everyone to see that part. You could add presentation sections for just the finance department and not display that when you showed the presentation to the rest of the staff.
The possibilities are endless – you could add another section for senior managers that included figures for profit and expenditure which are confidential. This part could be hidden when the presentation was shown to the regular staff. Sections of a presentation can be expanded or collapsed depending on who they are intended for.
How to Create a Section in PowerPoint
To add a section to your presentation, switch to Slide Sorter View using the button at the bottom of the screen (or click View: Slide Sorter).
Next, right-click to the left of the slide where you want to start the new section and select the option to Add Section.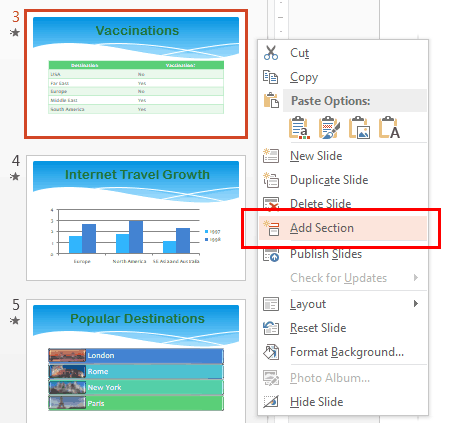 A new section is added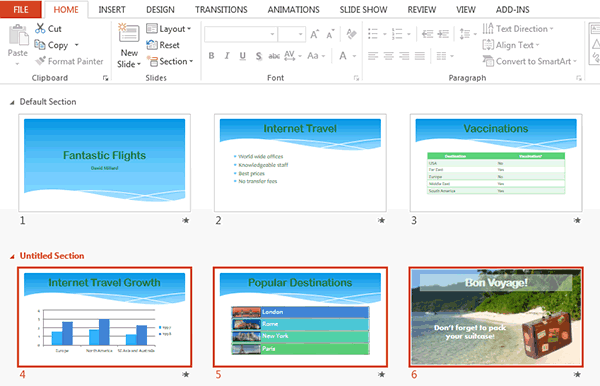 How to Organize a PowerPoint Presentation
It is always helpful to name a section so that it is easy to identify. In order to give a section a useful name, right-click the Section heading and click Rename Section.  The rename section dialog box opens: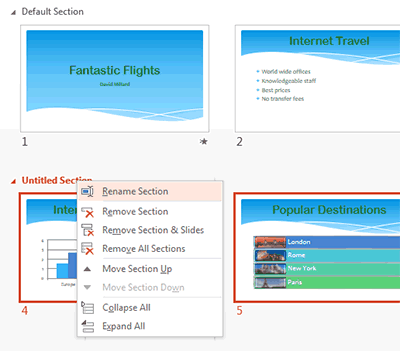 Type in a meaningful name and click Rename.
Collapsing and Expanding PowerPoint Sections
When you insert a section in PowerPoint and are actually giving the presentation, you can collapse any of the sections so you only see the section name or you can expand one or more so you can see the slides in the section.  This makes it easy to navigate through a large presentation and also allows you full control over which sections are shown.
To do this you can either click the switcher arrow to collapse or expand the section.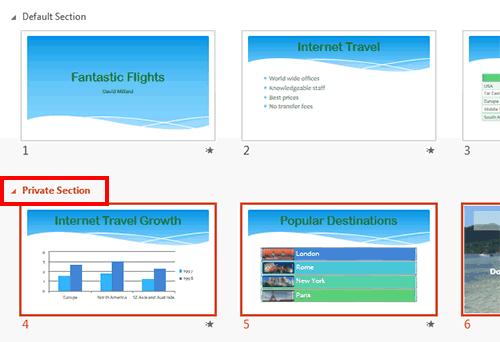 Alternatively you can right-click so that you can Collapse All and Expand All the sections in the presentation.
Removing Sections
Occasionally you might find that you no longer need the sections and want to remove them. You have several options here; by clicking a Section heading with the right mouse-button you open this dialog box: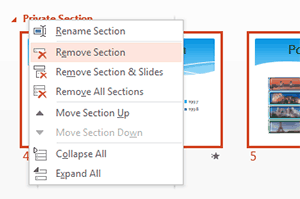 The various options listed here allow the following actions:
Remove Section: this option keeps the slides in your presentation and only removes the heading
Remove Section and Slides: this option removes the whole section from the presentation including the slides
Remove All Sections: removes all the section headings but keeps all your slides
Moving Sections
If you want to change the position of a section within the presentation PowerPoint has that covered too. Once again, right-clicking a section heading allows you to Move Section Up and Move Section Down. This is usually best done in slide sorter view so that you can see the impact of the change immediately and reverse it if need be.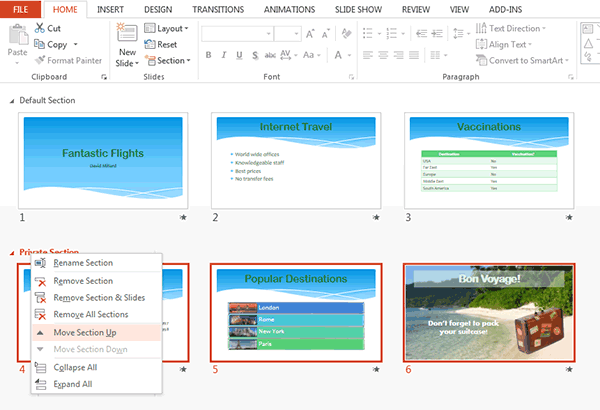 Learn more about PowerPoint and presentation sections in our online school
Find more information on PowerPoint Sections in our course outlines