Microsoft Word Training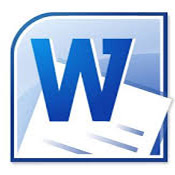 Probably the most widely-used application in the world, Microsoft Office Word is an amazing piece of software that has progressed beyond belief from the document processor it was designed as.
Despite being the default e-mail editor in many organisations, Word is still much maligned by those who "never write letters." Word is so flexible, in fact, that it can cope with just about any form of written work, and has built in templates for, among other things, legal pleadings and even a thesis!
Since the 2007 version, Microsoft Word has been able to publish blog posts – honestly! – with just a single click, and in the 2010 and 2013 versions of Word it is possible to take a screenshot without any additional software. This is a feature I use a lot for writing my tutorials, and in addition to a complete "print screen" style screenshot you can also add a "Snagit" style screen clipping. These are features very few people know about and yet if they are useful in you work, they can make an incredible difference to your workflow.
Documents written using Word can be saved in a wide variety of formats, making them compatible with most other industry-standard applications including saving directly from Word as a PDF.
Indeed, Word can open and manipulate files saved in many other types of software, including Open Office, and can obviously be fully integrated with other Microsoft Office products.
Our Microsoft Word Training courses come in three varieties; Introduction, Intermediate and Advanced, and are available for 2007, 2010 and 2013 versions.