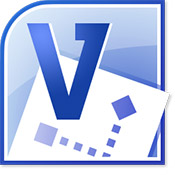 Microsoft Office Visio makes it easy for IT and business professionals to visualize, explore, and communicate complex information. A well-drawn diagram helps people understand complex ideas, strategies and structures without needing to understand the underlying technicalities. With our Visio training you can go from complicated text and tables that are hard to understand to Visio diagrams that communicate information at a glance.
Microsoft Visio makes diagrams dynamic
Instead of static pictures, create data-connected Visio diagrams that display data, are easy to refresh, and dramatically increase your productivity. Use the wide variety of diagrams in Office Visio to understand, act on, and share information about organizational systems, resources, and processes throughout your organization.
A Picture Speaks a Thousand Words
In the same way that a chart can convey information at a glance, a Microsoft Visio diagram can do the same thing and more. Our Visio training will show you how you can make a timeline diagram to indicate key points in a project – really useful for things like management summaries – or a floor plan to see how you can use the space in your new office to best advantage.
We cover creating visio custom shapes, stencils and structural diagrams which can be adapted for virtually any purpose.
Both Office Visio 2007 and 2010 versions are available in two stand-alone editions: Office Visio Professional and Office Visio Standard. Office Visio Standard 2007, 2010 and 2013 have the same basic functionality as Visio Professional and include a subset of its features and templates. Microsoft Visio helps create professional diagrams
Microsoft Office Visio Professional 2010 and 2013 offer advanced functionality, such as data connectivity and visualization features, that Office Visio Standard does not.
Visio Tutorial videos
Watch free sample tutorial videos here:
Tutorial 1 – Getting Started: what is Visio?
Tutorial 2 – Getting Started: Screen elements and Navigation
Tutorial 3 – Getting Started: Using Pan and Zoom
Visio Tutorials
Visit our sister site dedicated to teaching end-users Microsoft Office Visio