Adding an Email Signature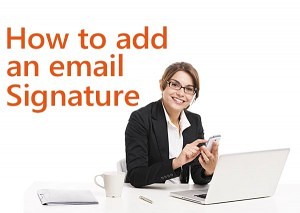 Email signatures are used in electronic correspondence all over the world and are seen as much more than just a way of identifying the sender.
Your email signature is your calling card, a way of introducing yourself, your role, your expertise and your company to someone else.
The best email signatures are ones that say something else about you and encourage the recipient to save your details and the way to ensure this is to tell them a little about yourself. You do not have to go into any detail, but a bit of personal information – a photograph of you, for example – helps to make it a bit more personal and less of an anonymous business email from another faceless stranger.
How to create signature lines in Outlook
You can easily create a professional email signature in Microsoft Outlook. In this tutorial I am using Outlook 2013. There are several ways to access the Signatures panel in order to create a new signature. You could go to the File tab, then Options, Mail and then click on Signatures, but in Outlook 2013 I prefer to just create a new blank email: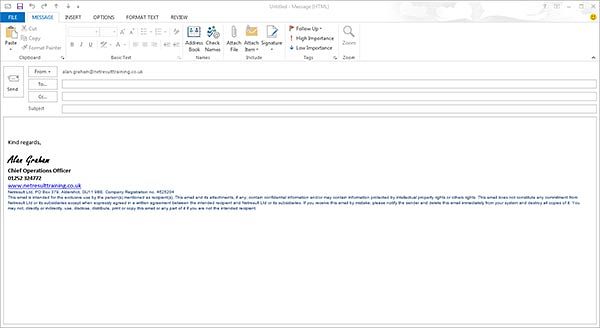 From here, go to Signature then click Signatures… from the bottom of the list:
This will open the Signatures and Stationery dialog box – exactly the same as you would have reached if you had gone the long way round:
Create signature by clicking New: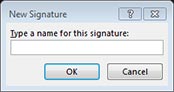 Give the new signature a name and click OK. The lower "create signature" panel will clear and you can start adding your details: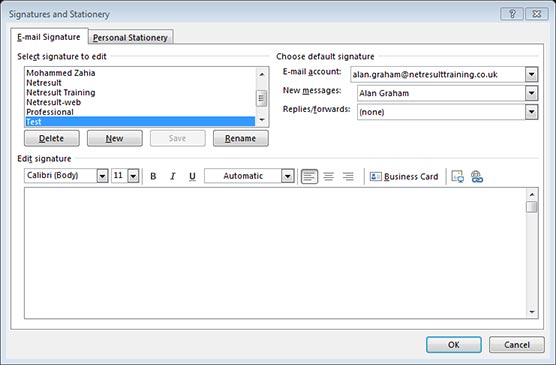 You can add your name, email address and contact phone numbers and format the text in any way you want. Many people use the kind of fonts that look like handwriting for their name – Bradley Hand, Lucida Handwriting and Segoe Script are examples for a professional email signature.
If you want to use your own actual signature you can scan it and save it as an image. It is easy to do this with most printers, and once it is saved it can be inserted into your signature line.
You can also include other images when you create a signature, for example a logo: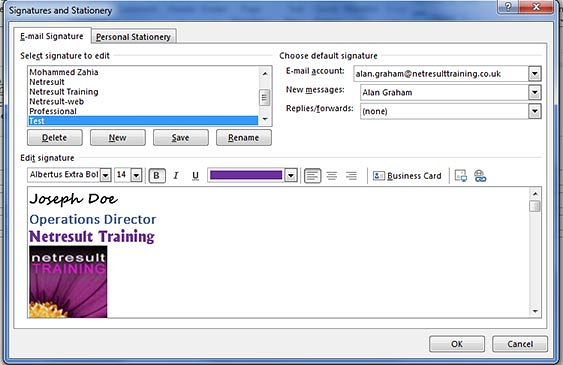 As you create your signature Outlook will add email and web addresses for you if you click the Link button and enter the details: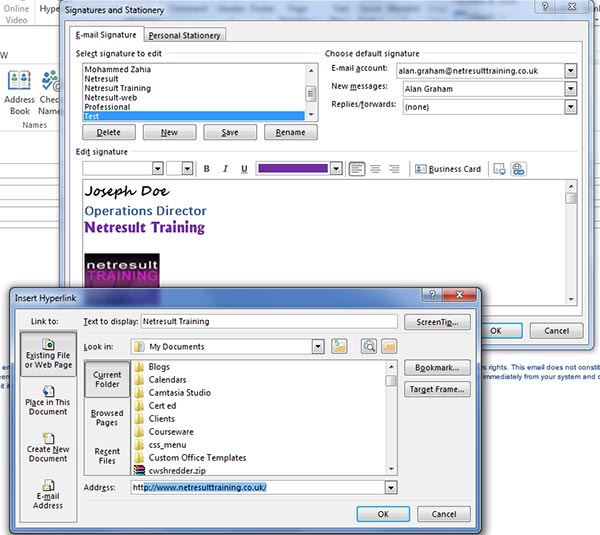 These become clickable links in your email.
Adding a Business card to your Professional Email Signature
If you have created a business card you can add it to your signature. To create a business card, go to People then add a new contact. As you enter the details – for yourself, if you want to make your own business card – the Business Card is automatically created for you.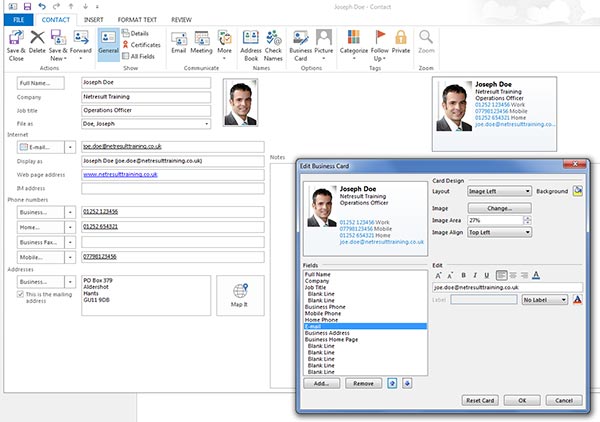 Your business card can be edited to suit. When you are done. Click Save and Close. Your new business card can now be added to your signature: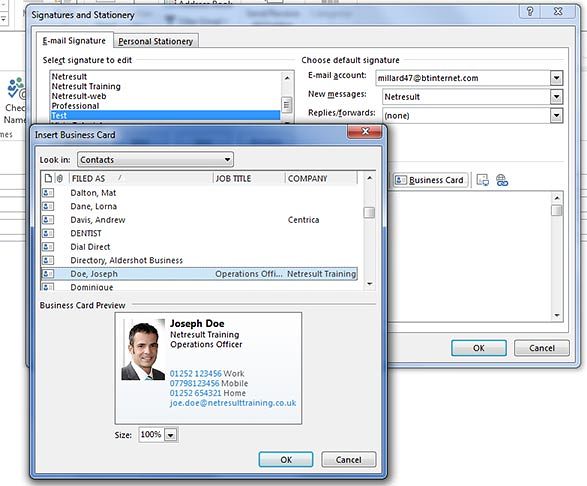 You can add as much information as you want when you create a signature in Outlook 2013, but it is a good idea to include a business card and a business logo or a picture of yourself. This makes it personal and lets the recipient form an initial impression of you – even if you've never met!