If you have a document already written in Microsoft Word, it is easy to turn it into a PowerPoint presentation. It only takes a few clicks, and as long as the formatting in the original document is correct your presentation will be completed without any further effort from you and in this Microsoft PowerPoint Tutorial I will show you how…
Making your Microsoft Word document compatible
For this process to work properly, you must use styles in your Microsoft Word document. It is important that these are hierarchical in nature, so if you have any extraneous text that you don't want included in the presentation delete it before you start.
In order to demonstrate this I'm going to use a Word document all about travel preparations: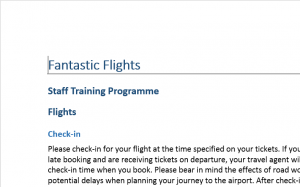 As you can see from the screenshot I am deleting all the body text and just leaving the headlines. These will form my slides in a PowerPoint presentation.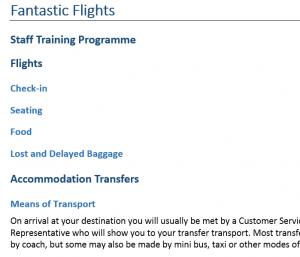 Creating the heading styles in Microsoft Word
When I have completed this part of the process I need to make sure that I am using a heading one style for everything that is going to be a new slide, I heading two style for everything that I want represented as a bullet point on that slide and heading three style for everything that I want to be inserted as a sub bullet point.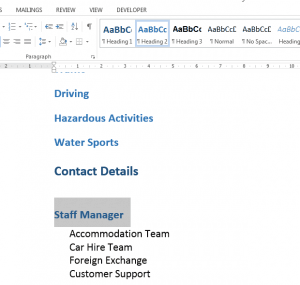 When the formatting has been completed I will save the document with a name that identifies it as an outline. Once saved, it is also important to close the document.
Now the magic can begin
Now we can switch over to PowerPoint and start a new presentation. PowerPoint will begin with a blank title slide, and that is okay. We will now add all the slides from the outline document in Word as new slide in this presentation.
The way to do this is simply to click the drop down below the new slide button and choose slides from outline.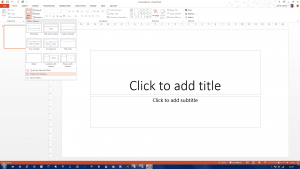 Now, after a moment or two is hesitation, all the slides are inserted for me. All I have to do now is add a title to the title page, a theme, a transition, and if I want to, some animation and images.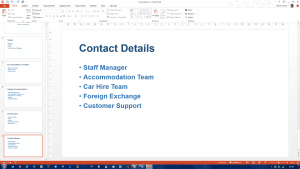 Voila! There is my new presentation all ready to run.
This technique has been a lifesaver for me on many occasions
This is a technique I use very often to produce a PowerPoint presentation on the fly. Every time I go to a client's site to deliver training on a particular topic I make a brief PowerPoint presentation to show at the beginning so that the delegates know what content to expect.
It makes everybody aware of the things that we will be covering during the day and also helps to set expectations. Why don't you try it yourself?
For more indispensable Microsoft Office tips and tricks visit
http://www.netresulttraining.co.uk