There are always people who want to know how to make animations in PowerPoint but are not sure when they should do so. In my experience, one of the most common uses is for the bullet points in a bulleted list.
What Is the Difference Between Animation and Transition As It Relates To a Powerpoint Presentation
A transition is the way one slide moves to on the next.  An animation effect refers to the way an object enters, leaves or behaves when it is on a slide. In PowerPoint 2013 there are separate Transitions and Animations ribbons so it easy to understand the difference.
How do you add animation in PowerPoint
It is very easy to add animation in PowerPoint 2013, not just to text but to other objects as well. These can include pictures, bits of clip art, text objects like Word Art, graphs and charts – pretty much anything in fact.
In the PowerPoint 2010 and 2103 versions there is a dedicated Animations ribbon that includes all the necessary tools for animation. In this PowerPoint animation tutorial I am using PowerPoint 2013 and I will show you how to add an animation effect to a bulleted list.
How to add an animation effect in PowerPoint
First of all, enter the text you want to animate. I am using a test slide here:

Highlight the text, or just click in the paragraph and go to the Animations ribbon:

PowerPoint Animation Effects
Click on the type of animation effect you want. If the one you want isn't visible, expand the gallery by clicking in the bottom right corner – the little button reads "More" when you hover over it:
The gallery contains all the pre-set effects divided into categories Entrance, Emphasis, Exit and Motion Paths: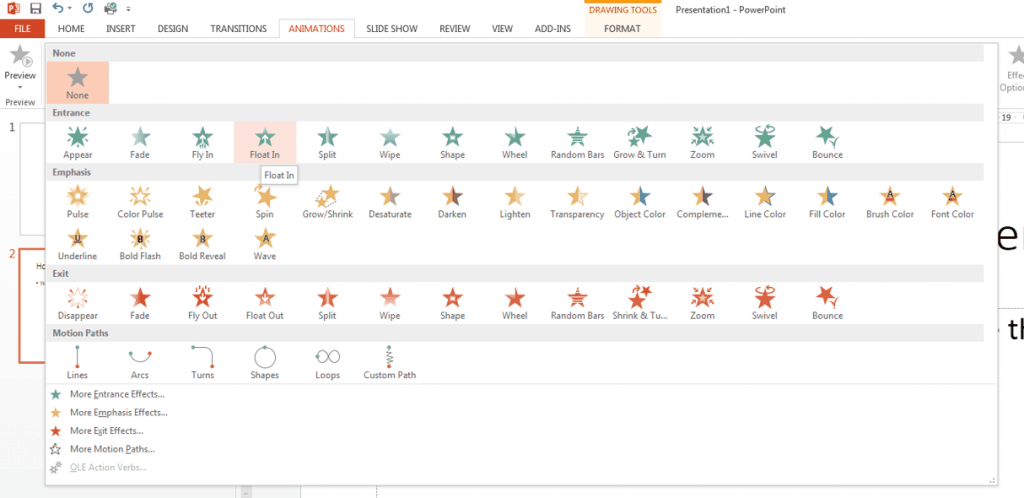 At the bottom there are more options: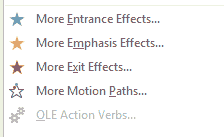 In this case I will apply a simple Fly In effect. A preview is shown immediately and the effect is now indicated by a small number 1 next to the text:

The default direction for this animation is to fly in from the bottom. In this case, I want the text to fly in from the left, so I click on the Effect Options button and choose this from the drop-down list: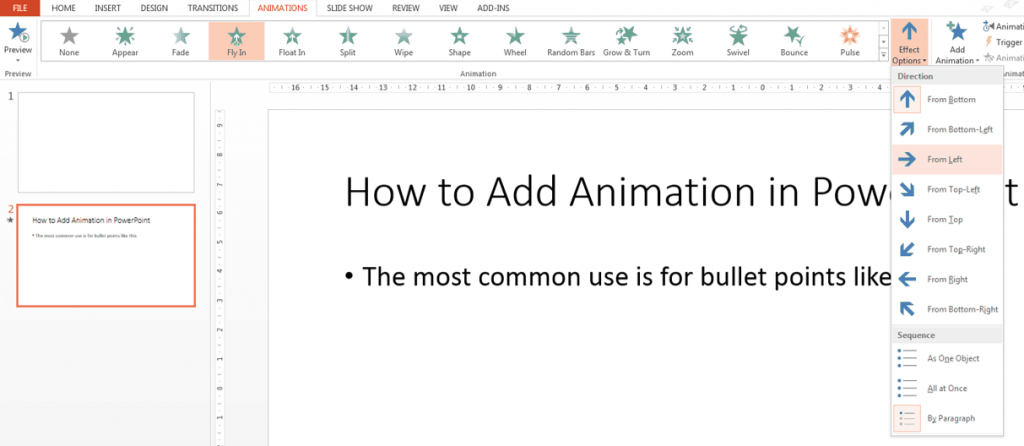 I can now add more text if I want to. I'll add another three bullet points: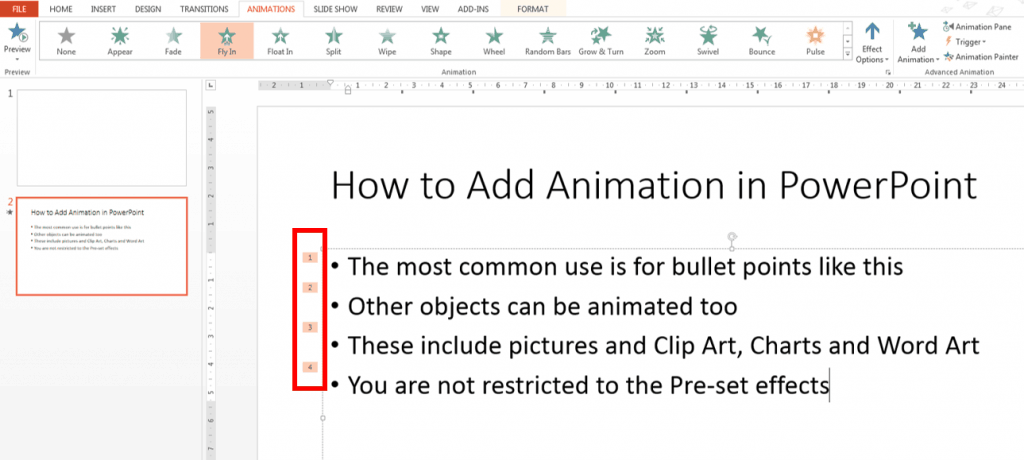 In this version, PowerPoint automatically adds the same animation style to each subsequent bullet point. In earlier versions you have to add the same effect each time, although in PowerPoint 2010 the Animation Painter provided a quick way of replicating an animation.
How to Use Animation Painter
The PowerPoint 2013 Animation Painter is a great tool for applying the same animation effect to other text or objects in the presentation. If you double-click the button you get unlimited opportunities to "paint" the animation – very much like the Format Painter button in Microsoft Word.
Here I am using the Animation Painter to apply the same animation to the next slide:


Why Do We Use Animation in Powerpoint
Very simply, we use animation whenever we want to add a bit of spice to a presentation. This may be as the text enters the slide, when it leaves or when we want to emphasise a particular point. It could also be to add an element of surprise or to reveal something during the presentation.
It is important to keep your audience interested, or better still engaged with what you are presenting and nothing kills that more than slide after slide of dull figures. PowerPoint now has some slick table formats that help with the delivery of numerical data, but it is better to use something visual to maintain interest.
An example of this might be a slide giving sales figures over a period of time. Figures are terminally boring in a presentation, so I always try to keep them to a minimum. However, there are times when you have to include them.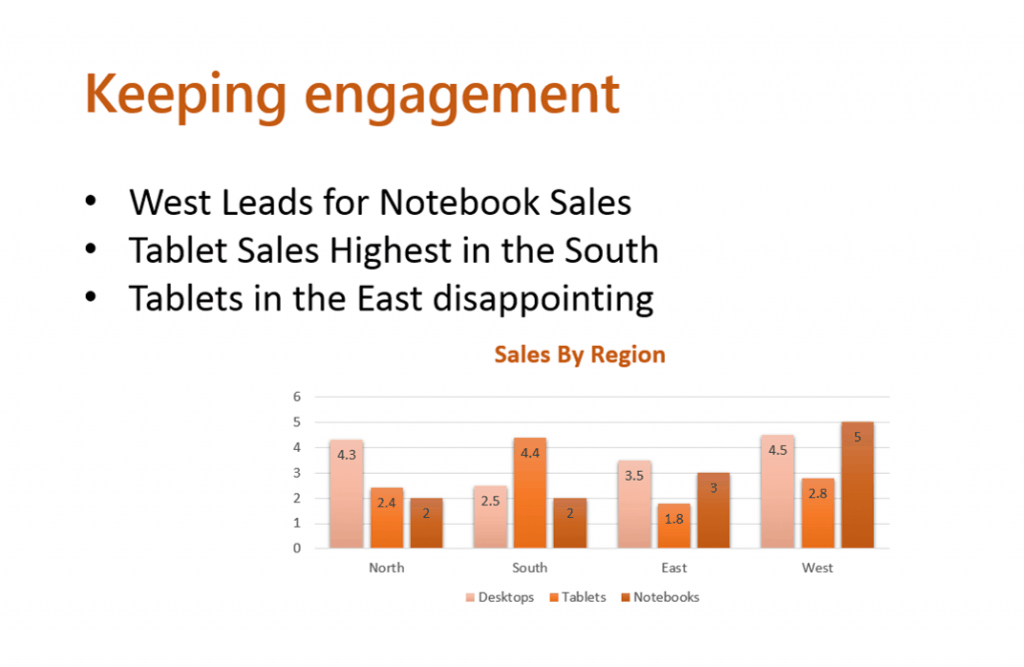 I try to give a visual alternative as well in this case, typically a chart or graph and it is quite a nice touch to have this appear after the figures by using an animation. I personally like the Float in effect for charts, but you can choose whatever suits your presentation best.
Visit our online school for more information on the Animation Painter in PowerPoint 2013